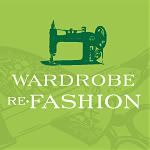 About a week ago I stumbled upon a blog called
'Wardrobe Re-fashion'
. It's filled with inspiring DIY sewing projects, based on the principle of refashioning, renovating and recycling clothes. The bloggers who contribute to it make a commitment to 2, 4 or 6 months (or a lifetime!) during which time they don't buy any clothes from shops. I thought it was a great idea... so I signed up for 2 months! What could be more appropriate for a girl who received a sewing machine for Christmas?
So... I'm not allowed to buy manufactured clothes from now until March 1st. And I've got to sew my own clothes. Aaah!

This rather dazzling silver dress is the first thing I made... you almost need sunglasses to look at it, haha. It was based on
this beaut
from Dahlia, which at £60 was rather expensive for me. My own version cost me £4.70 and about 3 hours of solid concentration. I was going to wear it on New Year's Eve but I chickened out because it's so bright... but it may be making an appearance some time in the near future!
I'm so pleased with how the waist band turned out!
Sadie xxx